"Plant" is a character costume in the StrikeForce Kitty series, based on Bulbasaur from the Pokémon franchise.
StrikeForce Kitty 2
"Plant"
The fox cosplaying as "Plant" can be found on level 7 with "Electro-rat" near the end of the level. The set can be obtained by defeating the fox multiple times or using lottery tickets.
The set has two pieces and consists of: Bulbasaur's head, and the rest of its body. "Plant" does

ranged damage (projectile is invisible) and its ability is after a level is completed, 20% of the fish gathered in the level is added to the final total fish count.
| Part | Effect | Image |
| --- | --- | --- |
| Head | 8 speed, 6 health | |
| Torso | 6 health, 6 strength | |
| Weapon | none | |
"Monster level 2"
Main article: "Monster level 2"
StrikeForce Kitty: Last Stand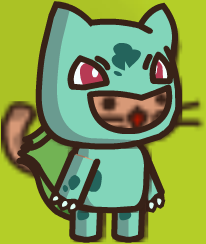 "Plant", or Bulbasaur, is a cosplay obtainable by defeating raccoons in StrikeForce Kitty: Last Stand, look in the pages categorized in "Ranged"; unlike in StrikeForce Kitty 2, here the projectile is no longer invisible.
See also