"Tankman" is an artifact costume in the StrikeForce Kitty series, based on Mega Man X from the video game series of the same name.
StrikeForce Kitty 2
"artifact 4" can be equipped to a kitten that wears the "Cragman" cosplay. Like its predecessor, "Tankman" does

ranged damage, and activates all teleport portals in a level.
"Tankman" adds 12 strength, 3 health, and 11 speed to that kitten, for a total of 27 strength, 25 health, and 29 speed, from "Cragman".
StrikeForce Kitty: Last Stand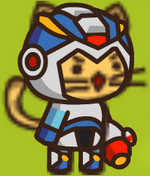 "Tankman" is a cosplay that can be obtained from defeated raccoons in StrikeForce Kitty: Last Stand, look on pages in the "Ranged" category.
See also
Mega Man X and First Armor in Mega Man Knowledge Base
Insert any wiki article (outside Wikia) with this character here. Thanks!
Community content is available under
CC-BY-SA
unless otherwise noted.