"waka-waka" is a character costume in the StrikeForce Kitty series, based on Pac-Man from the eponymous video games.
The name is literally the gobbling sound heard in the games.
StrikeForce Kitty
There is no fox wearing the "waka-waka" costume in the main game levels. The costume can be obtained by defeating a fox wearing the helmet by chance while facing the Fox King. Otherwise, the helmet may be found by unlocking a chest.
The costume set contains only the helmet that looks like Pac-Man. "waka-waka" does

melee damage and has the special ability to attract fish at distance level five.
"waka waka" is one of four costumes with only one item to collect for an ability, along with "nya-nya", "meathead", and "wonderman".
| Part | Effect | Image |
| --- | --- | --- |
| Head | 35 health | |
| Torso | none | |
| Main-hand | none | |
| Off-hand | none | |
StrikeForce Kitty 2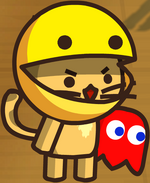 The fox wearing the "Waka-Waka" costume can be found in Level 10 (Northland 2) after the LOTTERY TICKET chest in the middle of the level. Unlike the first StrikeForce Kitty, where only the helmet is featured, a new addition is a Ghost (named Blinky) that is used as a weapon (costume set still does

melee damage). The reason might be that there wouldn't be one-item costume sets like the first. The items can also be obtained through lottery tickets. As a result, "Waka-Waka" is the only costume set in StrikeForce Kitty 2 with a helmet part and a weapon.
Unlike the first, the costume effect is different: removing any obstacles with an eye icon from the path.
| Part | Effect | Image |
| --- | --- | --- |
| Head | 8 speed, 20 health | |
| Torso | none | |
| Weapon | 19 strength, 12 speed | |
StrikeForce Kitty: Last Stand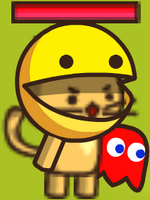 "waka-waka", or Pac-Man with Blinky, is a costume that can your kittens can wear in StrikeForce Kitty: Last Stand, look in the pages categorized in

"Melee" after it is dropped from a defeated raccoon wearing it.
See also